2023 Annual BIA Conference
April 16-19, 2023



Apr16
Registration for the 2023 BIA Conference is now open!
2023 BIA Conference | April
16-19, 2023
Why should you attend the BIA Conference?
For our delegates, attending the BIA Conference means stepping away from their busy communities to connect with other Members and Leaders in Ontario to learn and network. It means recharging and returning to their communities ready to make an impact!
The OBIAA BIA Conference is an annual training opportunity available to BIA management, with keynote speakers, leadership training, and endless opportunities for professional development, networking, and growth.
2023 Land Acknowledgement
The 2023 BIA Conference Committee and OBIAA acknowledge that we are gathered on the traditional lands of the Anishinaabek, Haudenosaunee, Lūnaapéewak, and Attawandaron.

We acknowledge all the treaties that are specific to this area: the Two Row Wampum Belt Treaty of the Haudenosaunee Confederacy/Silver Covenant Chain; the Beaver Hunting Grounds of the Haudenosaunee NANFAN Treaty of 1701; the McKee Treaty of 1790; the London Township Treaty of 1796; the Huron Tract Treaty of 1827, with the Anishinaabeg; and the Dish with One Spoon Covenant Wampum of the Anishnaabek and Haudenosaunee.  

This land continues to be home to diverse Indigenous peoples (First Nations, Métis, and Inuit) whom we recognize as contemporary stewards of the land and vital contributors to society. We hold all that is in the natural world in our highest esteem and give honor to the wonderment of all things within Creation. We bring our minds together as one to share good words, thoughts, feelings and sincerely send them out to each other and to all parts of creation. We are grateful for the natural gifts in our world, and we encourage everyone to be faithful to the natural laws of Creation. 

The three Indigenous Nations that are neighbours to London are the Chippewas of the Thames First Nation; Oneida Nation of the Thames; and the Munsee-Delaware Nation, who all continue to live as sovereign Nations with individual and unique languages, cultures, and customs.
Full meals – 3 Breakfasts, 3 Lunches, 1 Awards Dinner, and 5 refreshment breaks
22 informative and educational sessions taking place over 3 full days
4 streams of education based on the pillars of downtown revitalization – Leadership + Management, Economic Development, Public Realm, Marketing + Promotions
High value speakers & content including keynote speakers.
Awards Gala – Recognition of successful and innovative BIA efforts
Mobile Tours of Local BIAs
2 days of Trade Show – Enjoy face-to-face connections with over 20 Trade Show Exhibitors
Greetings from Municipal, Provincial, and Federal staff
Networking Opportunities. This is the one time of year when BIA Staff, Board Members, and Municipal Staff get together. You don't want to miss it!
Block pricing for hotel accommodations
An engaging in-person Conference experience
Pre-Conference tours at an additional cost
OBIAA offers a group rate for registration!
Relevant and informative content covered in each session
With four streams (pillars) of education, each BIA needs to consider sending more than one person to be able to attend as many sessions as possible. 
Board members have a dedicated session where they can network and learn governance best practices.
Download "Why You Should Attend the BIA Conference" and share it with your board members 
   Why should you attend the 2020 BIA Conference?
Salvatore Marchese | Sault Ste. Marie Downtown Association | Conference Chair
Bethea Summers | Pembroke BIA
Jeff MacIntyre | Downtown Sudbury BIA
John Kiru  | TABIA
Kerry Jarvi | City of Woodstock
Liz Behrens | Volunteer
Marty Williams | Downtown Guelph BIA
Mary-Lou Ambrose-Little | Downtown Port Colborne BIA
Barbara Maly | Downtown London BIA | Conference Host Co-Chair
Vicki Smith | Downtown London BIA | Conference Host Co-Chair
Aaron McMillan | Downtown London BIA 
Bethany Mejia | Argyle BIA
Cory Crossman | London Music Office
Donna Szpakowski | Hyde Park BIA
Jen Pastorius | Old East Village BIA
Karen Dowhan | Tourism London
Kay Matthews | Executive Director
Erin Douglas | Administrative & Membership Manager
Kennishia Duffus | Event Manager
Swapnil Nikam | Humber Intern – Awards
Deepti Shinde | Humber Intern – Marketing
A very special thank-you to Ann Barker and Ticketpro for all the amazing work they do with us every year – we truly couldn't do it without you!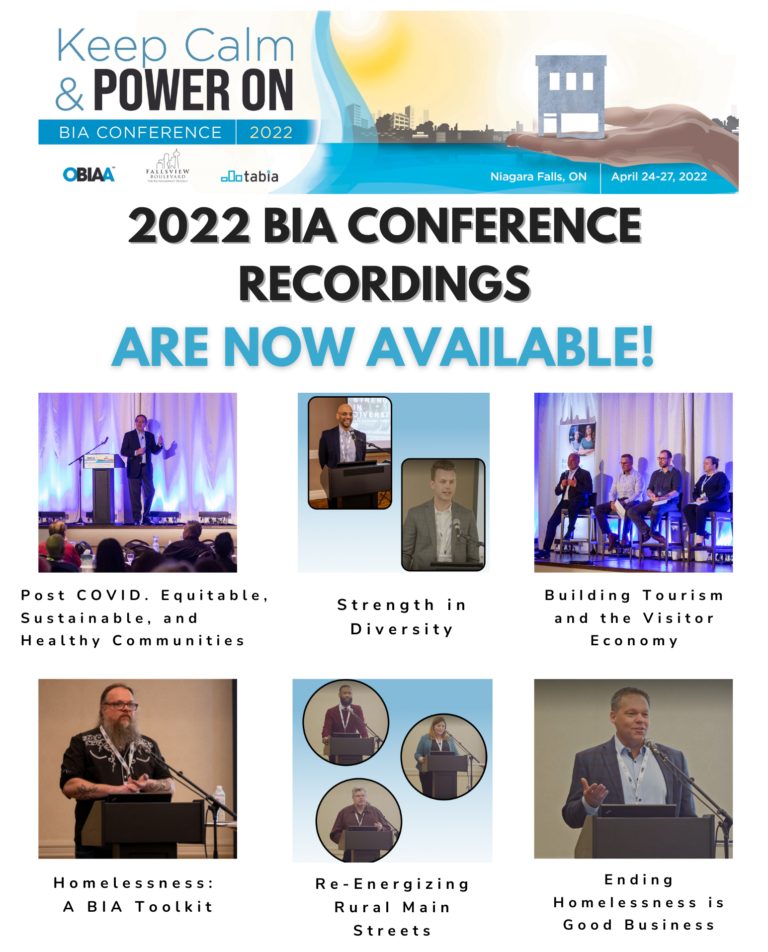 "Well done.  Met great people, intelligent dialogue, great services, and excellent meals and accommodation, (sic).  I have since written a report about the conference, for our mayor and downtown (sic) BIA.  Will share with everyone some of the unique ideas that I witnessed and heard, to keep small and large business working together to serve well, the masses, in so many capacities. Spontaneous round of standing ovation is more uplifting then any other. Congratulations on a job well done."
"I know the theme of the conference was related to resilience of the main streets and downtowns. But with the storm, it really showed the resilience of your members to show up and support OBIAA. I was worried no one would come and even doubted whether I should make it. But definitely glad you committed to putting on a wonderful conference and kudos to all those members came out in full force. Congrats."
"You should also know that I made more connections at OBIAA than any other conference I've attended in this job."
"Hats off to you and the rest of your team! I felt that this year was one of the best conferences I'd attended in recent memory. All of our delegates enjoyed the experience, too!!! I was delighted to see the Municipality there with 2 delegates, and the County supporting it as well. I hope to encourage more to attend next year."
"I attended all three mobile sessions. I feel that these are an invaluable part of the OBIAA conference – informative, engaging, fun, active, and from the ground up! I loved the networking opportunities and creative ideas they all provided! Thank-you!"
For Additional Information
If you require any further information, please contact OBIAA at 1-866-807-2227 or via email.