Speakers & Moderators
Meet the speakers and moderators at our 2021 BIA Virtual Professional Development Sessions.
Marketing Your BIA In A Digital World
May 5, 2021
10:00 AM – 11:30 AM
Managing Lead – Digital Main Street
ABOUT DARRYL:
As the Managing Lead in charge of leading Digital Main Street, Darryl has extensive experience working within Public Private partnerships developing outcome-based programming focused on technology adoption and community building/planning.
Digital Main Street (a program created by the Toronto Association of Business Improvement Areas) exists to help promote and create healthier, sustainable and economically thriving main street communities and Business Improvement Areas through supporting main street business growth with the adoption of digital tools and technologies.
Executive Director – Belleville Downtown District BIA
ABOUT MARIJO:
Marijo is a natural leader, mentor and community builder with an entrepreneurial mindset. She has a passion to empower others to succeed. Marijo thrives in fast-paced, but organized environments that are solution-focused.
Believing that excellence in marketing is the foundation of all successful business ventures, she applies her experience in the field to everything she does.
She is a high energy, no-nonsense, 'get the job done and make it fun while you're at it' kind of personality and love to love her job!
                     Director of Operations – Sonic Unyon Records
ABOUT SPEAKER:
Lisa La Rocca is currently Director of Operations at Sonic Unyon Records, a Hamilton-based independent record label, which also produces Supercrawl, one of Ontario's largest free music festivals.
Lisa serves as a board member of the Downtown Hamilton BIA.
Activating Public Space Into People-Friendly Places
April 28, 2021
10:00 AM – 11:30 AM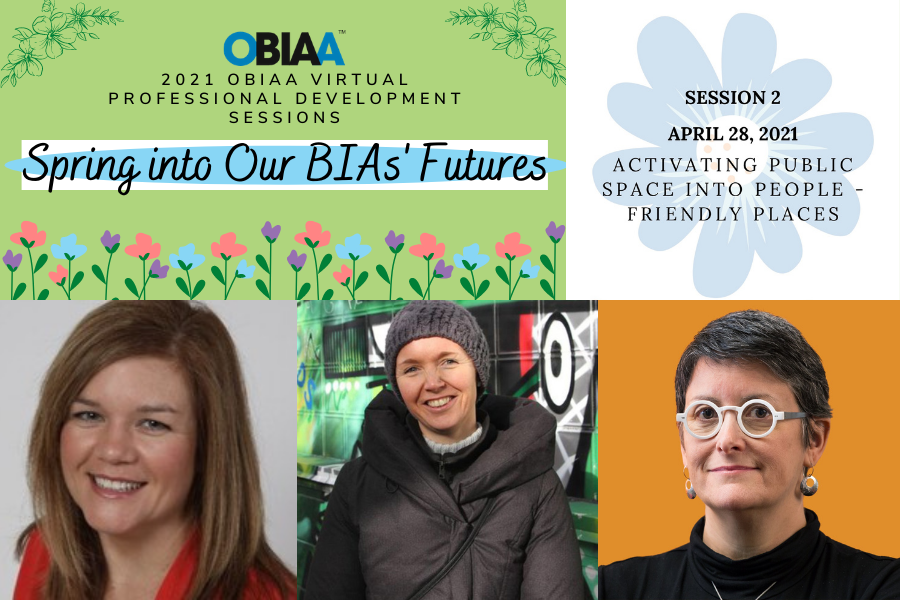 Marketing & Event Manager – Downtown Dundas BIA
ABOUT LISA:
Lisa is an experienced Event Manager with a demonstrated history of working in the marketing and advertising industry. Self directed, energetic, creative thinker, goal focused and comfortable in a fast-paced environment. Solid qualifications in, event planning, customer service, team work, relationship building and conflict resolution. Self confident and poised in interactions across all business hierarchies.
Co-Founder & Executive Director – The Laneway Project
ABOUT MICHELLE:
Michelle is a place maker with a background in architecture and urban design, specialized training in multi-stakeholder, triple-bottom-line project management, and over a decade of experience in Toronto's city-building sector.
She brings a wealth of expertise in community-integrated urban planning and design to the TLP team, as well as an intimate knowledge of the unique parameters and requirements for working in our smallest rights-of-way.
Co-Founder – PLANT ArchitectInc.
ABOUT LISA:
Lisa Rapoport, OAA, FRAIC, co-founded PLANT ArchitectInc. in 1994. Recognized for her passionate and rigorous approach to public space design on projects such as the Nathan Phillips Square Revitalization, and the Dublin Grounds of Remembrance.
She has led BIA projects including Kew Gardens Streetscape and Forest Hill Village North Gateway and Streetscape Master Plans for many Toronto BIAs.
Mental Health And Wellness For Business Owners & BIAs
May 12, 2021
10:00 AM – 12:30 AM
Executive Director – Aldershot Village BIA
ABOUT JUDY:
Judy works with the BIA Board of Directors to advocate, build membership and create beautification projects and special events to increase business visibility along Plains Road in Aldershot.
Employment Counsellor & Mental Health Works Trainer – Canadian Mental Health Association Niagara
ABOUT SARA:
Sara has worked in social services in Niagara for over twenty years including adults with an acquired brian injury, supported employment and mental health. Her passion is to help individuals recognize their work potential and break down barriers to employment.
Sara hopes that bringing resources to professionals about mental health will bring a more healthy work environment.
                                      CEO & Co-Owner – The Other Bird
ABOUT ERIN:
Erin is the CEO and co-owner of Hamilton-based hospitality group The Other Bird, the parent company behind a family of unique dining destinations in Hamilton, Burlington, Paris and London. Erin has been named Hamilton's young entrepreneur of the year by the city's chamber of commerce, received the Top 40 Under 40 award in Hamilton, and was named among the top 15 people to watch in the city for 2015 by The Hamilton Spectator.
She recently earned her MBA from McMaster University's DeGroote School of Business and is very proud of doing so.
A Call For Speakers
The 2021 Conference Call For Speakers will open this summer, stay tuned.
Please contact [email protected] if you have any questions or would like to submit to speak!