Return ON Investment of BIAs Report Now Available
Learn how BIAs positively impact their communities and municipalities.
Learn More
ROI of BIAs Report
Starting a BIA?
Is a BIA in your community's future? OBIAA is here to help. We can provide information on the steps that need to be taken, attend meetings with your Municipality and/or speak to your community.  Contact OBIAA at 1-866-807-2227 or info@obiaa.com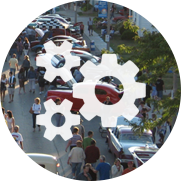 Learn About OBIAA
The Ontario Business Improvement Area Association through membership represents, supports, and encourages BIAs to increase their effectiveness and their contribution to the economic, cultural and social well-being of communities across the province.
Sharing Best Practices
OBIAA recognizes the power of networking, the strength in numbers and the value of sharing common concerns and finding resolutions specific to our individual communities.  Our members share Best Practices through a Member Needs Assistance E-Blast.  Members request a question to be sent out and the responses are posted in a Blog that members can access and/or print off reports.  Samples templates and documents can also be uploaded through this system.

Discover Ontario in the
Heart

of

Downtown