Return ON Investment of BIAs Study
OBIAA and TABIA have joined together to understand the impact that BIAs have on Ontario and our communities.
Learn More
Research Report
Start a BIA?
Is a BIA in your community's future? OBIAA is here to help. We can provide information on the steps that need to be taken, attend meetings with your Municipality and/or speak to your community.  Contact OBIAA at 1-866-807-2227 or info@obiaa.com
Sharing Best Practices
OBIAA recognizes the power of networking, the strength in numbers and the value of sharing common concerns and finding resolutions specific to our individual communities.  Our members share Best Practices through a Member Needs Assistance E-Blast.  Members request a question to be sent out and the responses are posted in a Blog that members can access and/or print off reports.  Samples templates and documents can also be uploaded through this system.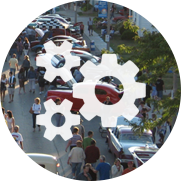 Government Best Practices
OBIAA represents our members' interests at the highest level of Provincial Government, making sure your interests and concerns are heard by those who affect change in your local area.  OBIAA has three Government Liaisons to the Board, they are from the Ministry of Municipal Affairs and Housing (MMAH), the Ministry of Agriculture, Food and Rural Affairs (OMAFRA) and the Ministry of Tourism, Sport and Culture (MTCS).
OBIAA presents priorities of our members and their members to the Planning, Environment, Resources and Land Deputy Ministers Committee annually on behalf of all BIAs.

Discover Ontario in the
Heart

of

Downtown